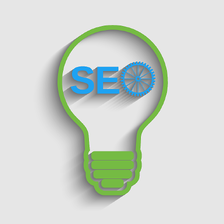 Well, well, well, we meet again (or for the first time).
Every month we feature ten of the best Twitter accounts whose content and conversations revolve around inbound marketing.
It is essential that you stay on top of the latest and greatest marketing tactics and strategies. Why? Because marketing is ever-evolving and improving; issues you are facing today have a solution tomorrow. The power of marketing is truly incredible.
This time around, we've decided to focus on one aspect of the inbound game: search engine optimization (SEO).
SEO is one component of the 'attract' phase of inbound marketing which deals with links and keywords. Today, we are in the midst of an SEO revolution with everyone asking, "What's the future of SEO in marketing?"
That's why we feel strongly that being on top of your SEO game is not only important as a marketer but it helps take your business further by generating more qualified leads and closing more sales.
Without further ado, here are the top people to follow on Twitter for the latest in SEO-focused inbound marketing news.
SEO & Content Marketing Expert. I Tweet Industry News That Is Actually Worth Reading!
Search Engine News Daily. Producers of @marketingland & @smx. Expert Analysis How-Tos & Opinions on #SEO#PPC #SEM #Google #Bing #Yahoo#Microsoft
Founder of Moz. I tweet 50-75X/week primarily on marketing, SEO, startups & entrepreneurship topics.
The longest-running SEM industry resource. Google, Bing & search news. Trends, how-tos, opinions, and tips on SEO, PPC, analytics, social media, and content.
Online marketing guy at @analyticspros specializing in Google Analytics, Search Engine Optimization and Social Media.
SEO Search Engine Optimization Expert savvy with Universal Search and internet marketing. Call (562) 732-4417.#seo #sem #analytics#searchmarketing #seoexpert
Search Engine Optimization Analyst and Social Media Enthusiast
Helping marketers succeed by producing best-in-industry guides and information while cultivating a positive community.
Hello, I'm Greg Beddor... An Oregon grown link lover who enjoys SEO banter, social media trends and search engine optimization.
Social media SEO (search engine optimization) personal / corporate brand strategist, speaker, web 2.0 strategies expert, trainer, coach
Topics: Demand Generation, SEO & Paid Search