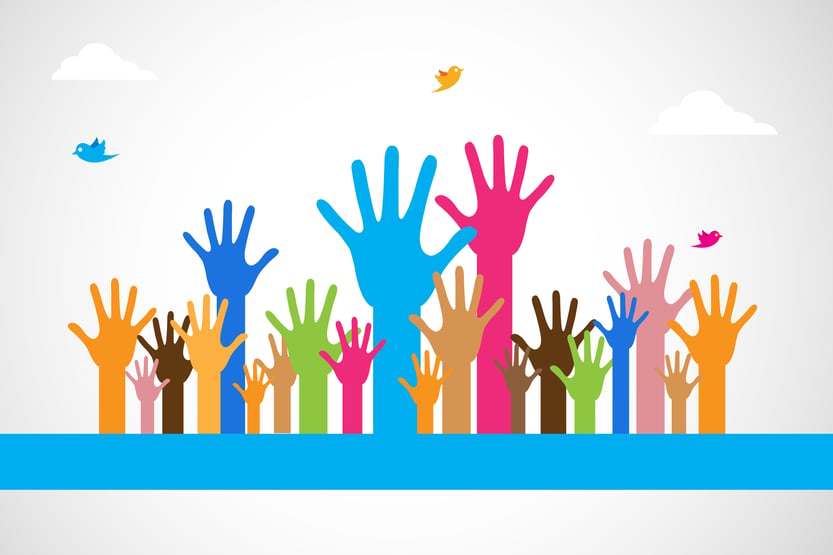 During our week at INBOUND 2016, we met a lot of interesting people who posed a lot of interesting questions. From "What the heck is the buyer's journey?" to "Who on your team is the best person to clean up my Salesforce?" we heard it all. But some questions about our company just kept popping up again and again, leading us to realize that we should be answering them for everyone who reads our blog or frequents our site. Are you ready? We are.

Top 5 Questions from INBOUND 2016
1. "What is it you guys do?"
Sometimes it's really hard not to counter this with: What don't we do? I'll admit, I was guilty of that several times at INBOUND. But it's the right answer!
New Breed is dedicated to unifying marketing and sales, and to achieve that, we collaborate with high-growth, global companies to develop and manage full funnel, multi-channel customer acquisition programs. From generating visitors to training sales teams on how to close using data, we can help with it all.
Not only do we focus on strategies and tactics that address the full funnel, but we also specialize in the technology needed to execute these programs. This includes marketing automation (HubSpot), CRM (Salesforce/HubSpot CRM) and analytics (InsightSquared) software.
Our approach, based on the idea of unification, transforms the way businesses grow. Our singular focus is the dramatic improvement of our clients' acquisition funnels – not solely website traffic or conversions. We serve over 150 clients in a range of verticals, including software, telecommunications, IT services and business services.
See? I told you it was everything and I wasn't messing around. From discovering your brand voice to migrating your automation platforms, New Breed has it locked down.
2. "How do I unify marketing and sales?"
Ooooooh, tough question! How do you do it, and how do we do it? (Those questions were pretty much tied as far as "times we were asked" goes.)
It's not super simple, but the idea behind New Breed is that we don't just do one task for you and let you run off into the marketing/sales wilderness on your own (unless that's what you want). Instead, we act as a strategic marketing and sales partner focused on optimizing the entire customer acquisition lifecycle, as we mentioned. That means we think about how your teams work together to achieve growth, and we work with your teams to draw out the idea that everyone is really on the same team, just entering conversations with the prospect or customer at different points in their journey through the funnel.
One way toward unification is through platforms and processes. We like to add "people" to that mix, too. So if your marketing team is having a hard time getting qualified leads to your sales team, we think about how changes to your portal and process can help you achieve that goal (for example). We also commit to getting your organization a functional service level agreement (SLA). Read more about that here.
3. "What do you mean by 'full-funnel' services?"
This question truly intrigued us. Many people we spoke with weren't sure about the states of their funnels, and weren't sure what we could provide that worked the whole way through. Here's what we mean: full-funnel means from first touch through to acquisition — and beyond.
Let's say you're trying to reach your ideal customers through a paid search campaign. We can definitely help with that. But that's not where the process stops, right? Ideally, you'll nurture that prospect, acquire that customer and turn them into an evangelist for your product or service. We help with every single step of that process, if you need it — or we identify gaps in your funnel that we can help fill to get you the best possible results: increased revenue and marketing/sales ROI.
4. "What does being a HubSpot partner mean?"
For us, there are all sorts of benefits, from access to additional resources to additional support for our clients, from easy platform assistance to collaborative opportunities. For our clients, it means we know the platform and the ecosystem inside and out, and have access to a great HubSpot team that's working to ensure success and growth of their customers just as much as we are.
5. "What sets you apart from other HubSpot partners?"
We get this question a lot, especially when we're immersed in a sea of HubSpot partners who are also being asked this question, such as it was in Club INBOUND. And our answer is largely contained in the above responses: We are not only a website building agency. We are not a Salesforce admin agency. We are not an Inbound content agency. We are a strategic partner that focuses on growth, and that's a different philosophy and process from a lot of the partners out there. We're also a diamond partner, one of the fastest growing, and were thrilled to be named top HubSpot partner earlier this year.
So there you have it! Five tough questions, five sort of lengthy answers. We hope we've given you some insight into what fuels New Breed (our clients' success!) and how we can fuel your growth. Want more info marketing and sales alignment?
Topics: Inbound Sales, Inbound Marketing, Demand Generation