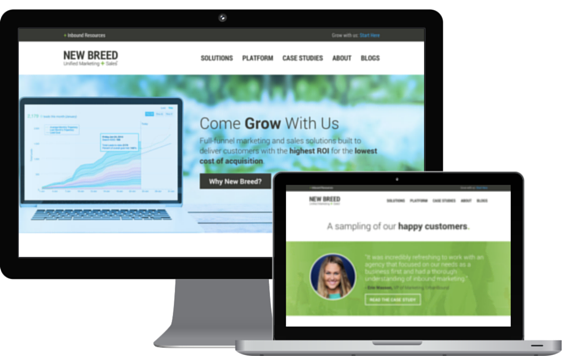 You may have noticed that things look a little different around here. We debuted our PubHub back in September, but last week we launched a complete redesign of the New Breed website. We're excited to share the design with you, as well as our reasons behind it and the strategy that went into it.
We build websites for our customers every day, but as we got busier and busier, our own website kept getting pushed down the list. It's easy to put customer work ahead of our marketing, but what we realized was that our old design was not generating the traffic and leads that we knew it could.
We set out on our website overhaul with the goal of building ourselves a brand spankin' new, conversion-optimized, sales-ready website. Our VP of Product lead the charge and the initial results have been rock solid.
In today's post, I'm going to share our driving factors behind the redesign, which should, in turn, hopefully help you take those back to your organization as you're considering your next overhaul. I'll also give you new features that we included in the site that I'm really jazzed about and that I think will make a big impact for our business.
5 Reasons Why our Website Needed an Overhaul
1. Our company has changed and our website didn't reflect that.
We see this problem all too often with many of our customers and leads as well. The premise of it is this: your business will change, but you need to make sure that your website reflects that change or you are missing out on valuable lead opportunities.
For example, at New Breed we have recently introduced some new sales offerings for our customers. In tandem with these offerings, we are also producing a lot more blog content focused on sales, but before the redesign our website did not mention sales anywhere. So if a lead had come to our site because they read a great article about sales for SaaS, they would have no reason to think they could purchase a sales-related offering from us because we didn't have any sales product pages.
2. The design was outdated.
Truthfully, this might not seem that important to some, but as a company that builds websites as part of our core service offering, we needed to be able to showcase our own website (and feel proud of the design and functionality) as part of our portfolio. While it isn't essential for organizations in every industry to stay up on every trend with the design of their website, it is for a company like ours and for our potential customers.
3. It wasn't personalized for each of our personas.
The initial step for us in all of our website redesigns is making sure we understand who our customer's personas are so that we can build the website to maximize those conversions. While our old design was built with conversion paths in mind, we hadn't built in any personalized content - meaning that each user visiting the site had the same experience regardless of how they had interacted with our company before.
With the new design, not only have we sprinkled in areas for SMART content, but we've also taken into account some of our newer personas and built specific conversion paths for each. The SMART content will be a constant evolution for us as we plan to adjust and tweak the strategy based upon the results we're seeing, but from the initial launch, we're using it to speak more personally to our customers, serve up products that suit our non-fit leads and create an highly personalized experience for traffic and leads that have engaged with us in the past. And while we don't have much data yet as the site has only been live for a few weeks, we're looking forward to doing a full analysis and comparing our results.
4. We didn't let our fun, inspiring and awesome culture shine through.
Our people are our competitive advantage and we feel like that didn't come through with our old website design. When you came to the site you knew what we offered, but you couldn't get a sense of who we were, what our people were like and what it was like to work with us.
One of our goals with our website overhaul was to breathe some of our personality into the site. We want it to feel like you know us when you visit different parts. We did this by tweaking our voice in the copy - making it more relatable and in a tone that reflects how we interact in the office - as well as adding in pictures of our team and showing some of the fun things we do together.
The plan is to also incorporate more video into the website which will give even more face to our brand and help our potential connect with us on a more personal level. Because at the end of the day, we are building a relationship with our customers, not just engaging in one-off projects, so culture fit matters to us.
5. We want to attract new talent.
We are in an exciting time at New Breed. Business is rockin' - we are booked months in advance for website work and we're growing our current customer relationships by offering new services that can help them grow and scale their businesses. To keep up with it, we can't seem to hire fast enough! Of course, it's an awesome problem to have, but at the end of the day, our recruiting team is one person and she needed some help.
So we've designed our new website to not only be our best salesperson, but to also serve as a recruitment tool. We've built out our careers section and incorporated HubSpot workflows to help automate some of the process - hopefully also alleviating some of the work from our recruitment efforts.
We also took this into account with the design of the site itself. This plays into the point from above about our culture, but this also rings true for our recruitment. We want to attract the best talent and as such, we want this talent to get a feel of the type of company we are when they visit our website. The look and feel represent who we are as a company and the individuals that make up our team. And we want prospective new hires to get that sense before they go through the application process.
So, what results have we seen?
Honestly, I think it's too soon to tell.
We've been watching the data very carefully, but don't want to make any bold claims before giving the site enough time to settle in and do its job. So here is my promise to you: since the new website has been live for a little over one week, check back on the blog in two or three weeks and I will give you a complete breakdown of our data. Where we are seeing improvements, what happened that we might not have expected and any tweaks we've made along the way.
And now we'd love to hear from you: what do you think of the new site? If you're thinking of redesigning your site, what are you main driving factors behind it? Let us know in the comments below!
Topics: Demand Generation