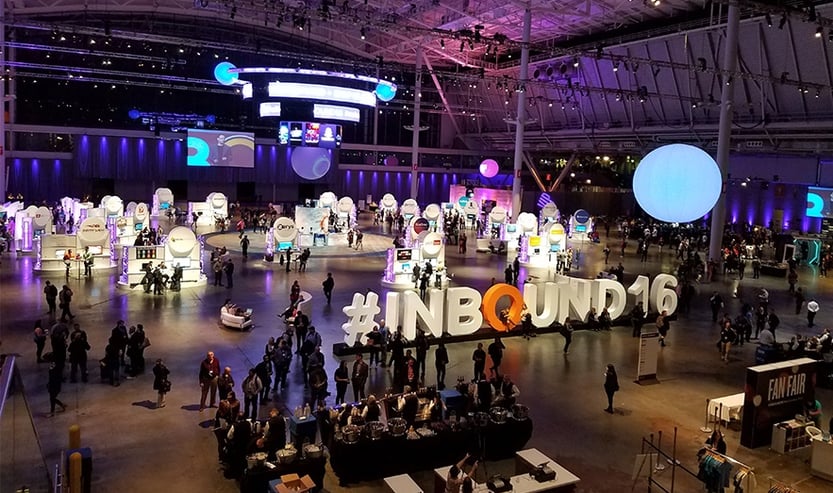 It's here! We've been dreaming of this moment for as long as we can remember!
OK, maybe we haven't been waiting quite that long. But it felt like forever to us. And now the time is finally here — we're ready to tell you about all of the new features revealed at INBOUND 2016.
HubSpot Connects Us All
This year, HubSpot placed the focus on growth through connection. Because it's getting harder to stay connected to each other as more and more tools are developed in silos (and more and more teams are kept in them, too), that's exactly where the focus should be.
Without further ado, here are the product and feature announcements that should help us all achieve our goals of unification and connectivity.
Connections Between Tools
Redesigned Interface
The redesigned HubSpot interface was created to make information clearer and more consistent. If you haven't seen it already, take a look now. Just try telling us that's not built for pleasure. That's right: using HubSpot with the new interface is even easier and feels even better than using HubSpot in the past. We didn't think it was possible.



Visual Workflows
Workflows has been completely rebuilt! We thought Workflows was the simplest automation tool ever, but it just got even easier to use. You no longer need to draw out your workflow with a stinky dry erase marker or conceptualize in a scrapbook before entering the CRM. Now, you can zoom in and out to get a more granular or wider view. Perhaps most importantly, though, the new Workflows features new connections between sales and marketing. You can now use the tool to take sales actions, such as deal creation or lead marking.
Reporting Improvements
With improved metrics and campaign reporting, HubSpot has given us something no other analytics tools do — a very clear connection to our content and pipeline. New options include content and email analysis. HubSpot has rewritten the entire analytics pipeline, improving speed, and adding deeper, more specific analysis options.
Connections Between the Team
To facilitate better connections between your teams and team members, HubSpot has come up with some super convenient options:
Projects
This is one of our favorite new things. Projects will be available to everyone, and they allow you to coordinate with your team inside the tools you're already using to complete tasks. HubSpot's resources and methodology are built in, so you don't have to think about the order of operations or where to find more info. It's literally right in front of you as you work.

You can use the template-based projects in Projects to boost your marketing and sales efforts with less tool switching. As HubSpot describes it, Projects is a "how-to, go-to tool." How cool is that?
Collaboration
With the new collaboration options come new opportunities. New ways to collaborate are layered on top of the most important tools in HubSpot so you can pull different team members into deals and conversations and engage with one another right in the CRM.
Unified mobile app
How excited are you for this?! Marketing, Sales and the CRM are all in one iOS app. The CRM app is currently in beta, but HubSpot is going to unify all three systems in one app (for iOS first, Android down the line), which will be slick and lightweight. It doesn't include every single thing, but instead makes collaboration between teams and systems a lot easier, and represents a reset to HubSpot's mobile strategy.
Connections with Customers
Composer
The new Composer is made to help you have a focused content creation experience, so you nail the right design and content for your visitors.
Collect
We are so into this. You can extend reach by using content you find anywhere on the web. Using Collect, your content writers can click and grab little clips from other sites and sources and comment on those clips, then store them for use later. It's hyper integrated and you won't see this level of innovation in any other marketing automation platform. The idea is to eliminate your writer's need for a billion bookmarks or stickies with links, and to keep them in the tool for maximum efficiency. An added bonus is that it allows them to include a much broader range of information in your published materials.
Facebook Ads
That's right: Facebook Ads is here! Now you can run paid Facebook campaigns from within your familiar HubSpot portal, like you can with Google and LinkedIn ads, saving you a boatload of time. Perhaps most important is the fact that running these campaigns through HubSpot is the best way to integrate all of your social ads analytics, so you can calculate the real ROI of every one of the campaigns you run — achieving a major goal of any great marketer.
Meetings
This tool is a huge efficiency booster. You can share a rep's calendar in email or on your website to set meetings with clients. You can use the new link in Workflows for sales rep meetings in order to automate prospecting. You can embed the calendar, removing forms and making it easier for people to get in touch, if that makes sense for your audience. This is a really, really big deal for sales productivity. We can't emphasize that enough.
Messages
This new feature of HubSpot Sales allows site visitors to engage in real time with your sales team via live chat. The chat isn't technically "live," but it is instant. It's connected with contacts and can customize which rep receives the messages based on who is the best person to nurture that visitor's needs. Because it's so quick, it creates a deeper connection to your contacts. And from the buyer's perspective, this is the best way to reach you, meaning you're answering their needs already just by giving them the option.
And Finally, Inbound for Everyone
As if connected tools, team members and customers weren't enough, HubSpot now hopes to connect everyone to the Inbound methodology with Marketing Free.
Marketing Free completes the growth stack by adding a free suite of marketing tools. The hope is that everyone will be able to sign up for Marketing Free, which will allow everyone to see the value of other HubSpot tools and products and act as a stepping stone. For marketers who want to try out HubSpot and Inbound but aren't fully invested, Marketing Free is the perfect opportunity. For agencies, this tool can help qualify prospect interest in HubSpot.
Inbound is for everyone, and Marketing Free makes it possible for that to actually be the case.
Topics: Inbound Sales, Demand Generation