It probably comes to no surprise that we are big advocates for creating content. Not just any kind of content, but the type of content you want to sing from the rooftops and share with your friends and co-workers. See, we feel content is essential to a successful inbound marketing campaign. How else are you going to increase visibility and attract quality traffic to your site?
Content is Remarkable
So maybe you have caught the content fever like us and you have started to devote a few hours a day to creating content for your business blog. You upload your post, insert an image and hit 'publish.' Now what?
In a perfect world your blog would instantly start attracting quality prospects to your site, you would convert them into leads and develop a strong-customer base. Unfortunately, it takes a little bit more than just hitting 'publish'. In today's post we will help you to understand why it takes more than just creating high-level content and an attractive layout to drive traffic to your blog in six easy steps you can start implementing today!
Step #1
One of the single most important things you can do with your blog post is to ensure that it is optimized for search engines. Having optimized content will increase the likelihood that someone searching for information (for example on inbound marketing, sales strategies or email marketing, etc.) will see your posts on the first page of their results (at least that's the goal).
So how do we do it? - Consider developing a keyword strategy with your buyer personas in mind. You want to identify the words they are using in search and craft your content around those topics. That way, your content will be top of mind when they're looking for an answer to one of their problems. And once you've been able to solve their challenges, you've captured them as a potential lead and customer.
Step #2
Social media is a huge aspect of sharing blog content, but as with everything else, there is a correct way to do it. Think of it this way, Twitter and Facebook are much more casual than LinkedIn for example. With that in mind, a message like this, "Nothing Like Ending the Week With a Fresh New Take on Inbound Marketing," may be more appropriate for Twitter or Facebook. While "Finish Up Your Work Week by Learning More About New Inbound Marketing Techniques," would better suit LinkedIn users. Tailor your messaging to whichever platform you're using so you're effectively reaching the right audience.
In addition to a catchy and "shareable" post, start encouraging readers / followers / friends to share your content. Creating dynamic copy will encourage this, but also think about ways in which you can motivate this action, such as, offering contests and freebies. Once readers get used to sharing your content it will happen more frequently and you will drive more traffic to your blog.
Now, before we move on to the next step let's make this loud and clear, social media is a fantastic engagement tool, but you're likely not a fit for every single platform. For instance, while Twitter and LinkedIn may be a great use of your time, Pinterest could be a waste. Use analytics to determine what networks are the most effective for your business. And listen to your customers. You want to be where they are.
Once you've chosen your platform, increase your presence and distance yourself away from networks that don't apply to your prospects or goals. You should also pay attention to what time of day you get the most feedback and what kind of content gets the most response. Finally, the best way to encourage further blog engagement is to respond to comments! You'll not only continue the conversation but you could encourage another reader to chime in and engage as well.
Step #3
You know those blog posts you created a few months ago? Well, they're most likely still relevant. In order to ensure they don't lose their value and the attention they deserve start incorporating links to previous posts in your new posts. Repackaging a previous blog topic into a new post is a great way to do this. Approach the topic from a different angle, focus on a different aspect of it or discuss new changes and updates that have occurred sense you last touched on this. Within this new post you can link back to previous posts that are relevant, encouraging readers to dig deeper into the content you have published.
Use internal links as a reference for defining words and concepts that you do not want to explain again at this time. For example, instead of explaining what "inbound marketing" is every time you say it, link the words "inbound marketing" to a older blog post you have already written that explains it (just like we did in step 1!). Every industry has technical jargon they expect their reader to know so don't force it in your writing. Instead read over your post after it is written to find key words that might warrant a link to further explanation. And if you don't find anything worth linking ask someone else's opinion. After all you have heard these words and expressions over and over again. Getting a fresh set of eyes to point out what they did not understand is always helpful.
Step #4
Don't forget about the pictures and videos! These elements aren't just for kids, they appeal to everyone, it's a simple science. People's brains process visual images faster then they will process your written words and images instantly evoke an emotion. Use this to your advance and choose your images wisely. If your blog post is titled "Inbound Marketing Is Fun" an image of a person sitting at a desk behind a computer may not convey that "fun" feeling you were going for. Instead choose an image with lots of color, maybe the person is standing up with a big smile on her face, they could appear to be dancing and working at the same time. This type of image will register "fun" instantly to a reader and encourage them to read your post. Try taking this idea farther and use a video of a group of inbound marketers "having fun". Maybe take the extra time to make a video of your own crew. This will personalize your message and show the reader who the faces behind the brand are.
Consider these stats:
Viewers spend 100% more time on pages with video.
Posts with video attract 3x more inbound links then a post containing only text.
75% of smart phone users stream video on their phone and 26% of these people stream video at least once a day!
Step #5
Connect your blog. And make it easy to find. Make sure your blog is linked to your website, your social media pages and your email signature. The easier it is for someone to access your blog the better. Here at New Breed Marketing we have created a "Blog" tab on the home page of our website, right at the top, next to our "Contact" tab. Some websites refer to their blog as "News" or "Current Updates". They might include a blog feed on their home page. Consider your customer personas and what they are looking for when deciding on the language and placement of where to link your blog.
Include a link to your blog, in addition to a link to your website, on your social media pages. Readers on social media are interested in what is happening now and would be more likely to want to read your recently updated blog then your website. Not only does including a blog link make it easier for them to navigate to, but it also makes them aware it exists.
An email signature is a great place to link to your blog. Think of all the people that read your email signature each day. Likely this mental list you are compelling includes business partners, new leads, return customers, friends, e-newsletter subscribers...that's a long list so why miss out on connecting them to your blog.
Step #6
Create an RSS feed so that visitors on your site can sign up to receive an email each time a new blog post is published. By signing up readers can ensure that they do not miss any new content you are posting. Encourage viewers to subscribe by placing a link to your RSS feed and an email subscription offering on your homepage. Choose colors and placement to make sure it stands out among all the other fabulous content on your page. Including this subscription option at the end of each blog post is also a great way to attract new subscribers. After all, they have just finished reading a post you made, they probably want to hear more of what you have to say. Here at New Breed Marketing we use this technique and give the subscriber a choice of the notification frequency, allowing them to opt for instant, daily, weekly or monthly updates. This may be something to consider if you are making several posts a day.
Who's going to be your very first subscriber? You! By subscribing to your own email updates you will see first hand what the reader is viewing and get a better sense of what improvements needs to be made. Maybe it's a formatting issue and it would look better if all your content was centered or maybe there was a publishing error and the content is not view-able. It's important for you to see these emails from the same vantage point as an email subscriber so you can address any problems immediately.
Key Takeaway
Try not to get overwhelmed and start small, focusing on one step at a time. These are easy changes to make and maybe you are already doing some. As your blog traffic starts to increase and your email subscribers began to build up make note of what is working for you and what isn't. Remember to re-access this often as inbound marketing trends can change.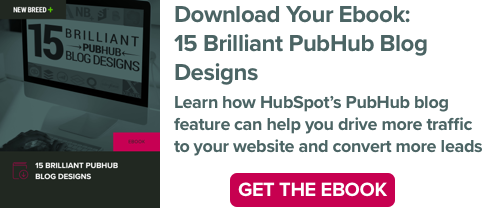 Topics: Demand Generation, Lead Generation