Two weeks ago, I headed down to the Future of Web Design Conference in New York City along with our vice president of product, Chris Mathieu. It was a great opportunity for us to continue to invest in our own design expertise, meet peers and learn from some of the absolute best design minds in the business.
There was no shortage of fantastic presentations, but these four really stuck out for many reasons. Some because of the forward-thinking Web-design principles they presented, others because of the way that design thinking is now permeating business on many levels, not just in Web-design alone.
Our top sessions from the Future of Web Design 2015
Modern Layouts: Getting Out of Our Ruts
Jen Simmons, Host and Executive Producer at The Web Ahead
Overview:
This presentation was a fascinating look back at how Web design has evolved from the core layouts seen in the early days of the Internet to the increasingly complex layouts that we see today and can anticipate in the future.You can view the presentation in it's entirety here.
Key takeaways:
In her presentation, Simmons challenged designers to look beyond traditional Web layouts and pre-established conventions to create more effective and useful layouts. She argued that Web designers should utilize the full bleed they are given on the Web that is such an expensive rarity in print design.
Core Web layouts came from early blogging and always included a sidebar. But if you look at user data and heat mapping software, sidebars are very ineffective today. Now, with responsive design, more unique and exciting layout options are possible, and striped designs with boxes are becoming more prevalent. But this shouldn't be the end-all be-all. Designers can continue to push this evolution using CSS shapes and columns and looking outside of the Web for design inspiration.
The Science of Happy Design
Pamela Pavliscak, Founder at Change Sciences
Overview:
This presentation spoke to the personal implications of technology making us "stupider," happier and lonelier at the same time. Thus it's a designer's challenge to create those happy experiences and examine the correlation between happiness and design.
Key takeaways:
Happy design is made up of five core components: ease of use, trust, creativity, connection and meaning. In the end, a user's level of happiness measures back to a user thinking a site is "better," the user being more likely to return, and the user's likeliness to recommend the site. By focusing on increasing a user's happiness, you should also be increasing conversions and leads.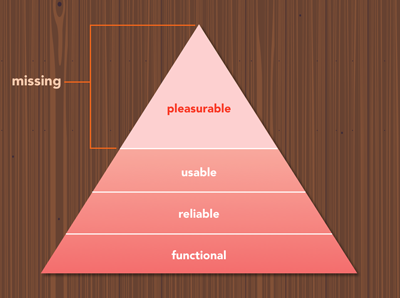 Photo Credit: UX Mastery
Paliscak used a fascinating example to illustrate these components in action by asking people to draw a website or app that makes them happy. When people did this, most of their images were just logos, and simple architectural elements. Brands that are creating these experiences are so focused on creating simple, elegant and easy-to-use experiences that when people look back on them, they experience "design fog," in which they don't remember much about the site itself.
Design Everything // Creating a Design-Driven Organization
Cap Watkins, Vice President of Design at BuzzFeed
Overview:
Cap Watkins made a compelling argument to look at what management means in an entirely different light in order to create better workplace environments, foster employee happiness and increase productivity, starting from the top down.
The presentation isn't available online, but you can find a blog post he wrote addressing the key points here: Management & Power. Here is a SlideShare presentation very similar to what was seen at the conference:
Key takeaways:
Watkins advocated for an inverse management structure, one that places empowerment above power itself. It was an idea that originated from his time working at Etsy under Chad Dickerson and that he has taken with him to BuzzFeed. In essence, leadership is a role, not a title.
Central to this idea is the concept of an inverse management model, an organization structure that looks like this:
Photo Credit: Cap Watkins
This model does a few things, but Watkins describes it at his core on his own blog:
Management isn't about accruing power, it's not additive in that way. Management is about letting go of your old power (the power to write great code or design an awesome feature yourself) and putting that into the hands of your team. - Cap Watkins
Great managers consider understanding what everyone else does to be really important. These people are able to set clear expectations around those responsibilities, so that employees know exactly what to do and are able to support each other.
BuzzFeed uses Basecamp to accomplish this. For example, after a kick-off meeting a designer writes what she thinks is expected, than everyone on the project reads that interpretation and responds to missed points or clarifications before a design concept moves forward.
Why Side Projects Are Stupid
Tobias van Schneider, Art Director & Product Design Lead at Spotify
Overview:
"In order for side projects to truly succeed, they have to be stupid." - Tobias van Schneider
Some of the most successful business ideas started as side projects. These initiatives include Gmail, Craigslist and even HubSpot's channel-partner program. Tobias van Schneider's argument is that as businesses try to bottle up this side project mentality with hackathons, 20-percent time or other policies, they risk the pursuit of side projects becoming cliché. As soon as that happens they won't be successful.
You can read more about van Schneider's thoughts on this concept here: Spotify's Design Lead on Why Side Projects Should Be Stupid.
Key takeaways:
All the best ideas used to begin as little things in the back of people's minds. However, van Schneider found that when he would tell someone about his side-project idea (for example, his own brand of beard oil), he would be immediately shot down. The danger in a broader business concept is clear. While side projects deserve to be pursued, brainstorming sessions with a lot of people may be a bad idea. More experienced or conservative people are often quick to shoot down an idea, whereas a more passionate or less experienced person might continue to pursue it to success.
His other important message was that you need to keep your mind going. The best way to be creative isn't to sit in front of a computer or read a book but to take a step back from a situation. van Schneider's own methodology to accomplish this is to put himself in uncomfortable situations (for example, dress up in fancy clothes and go to an expensive restaurant by himself) and then somebody will say something, or you'll see a different perspective leading to a different thought that could turn another random thought into something more meaningful.
I'd highly recommend this conference to anyone looking for insights into the importance of design in business today, and can't wait to return next year!
Photo Credit: Future of Web Design
Topics: Website Strategy