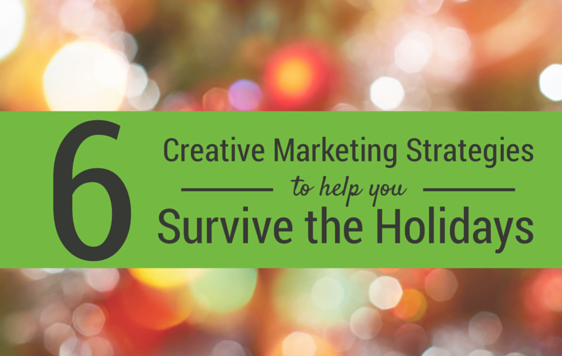 It's that time of year again.
There's a chill in the air. Daylight savings has passed and you're now leaving the office in darkness. Winter is on the way (especially here in Vermont).
With winter, comes the end of the year and that means it's crunch time to get ready for the New Year and a new quarter. It tends to be a stressful time of year and with the holidays approaching, you're trying to finish out 2014, start planning for 2015 and it's hard to even find a moment to relax.
But we all know, as a marketer you're always plugged in, but it's important to disconnect from work for many reasons, especially to be with loved ones. To make the most out of the short time off you have for the holidays, we've put together six creative strategies to help you stay on top of your workload without having to actually plug in. This way you can enjoy your holidays and not stress about going back to the office afterward.
Sounds like a win-win to us.
6 Creative Marketing Strategies to Help You Survive the Holidays
1. Schedule Social Media Posts
Whether you're traveling for the holidays, or are just staying at home, an easy way to stay on top of your inbound efforts are to schedule any social media posts ahead of time. That way you're constantly engaged and sharing your content without having to actually be tweeting or posting on Facebook in real-time. You certainly don't want to go silent over the holidays as it's important that your prospects are able to find you and engage with you, even if it's while you're away from the office.
How do we do it?
The main automation tool we use is HubSpot. They have a stellar social media scheduling tool, Social Inbox. With Social Inbox you are able to post, monitor and engage on Twitter, you can share posts on a personal or business Facebook page, Google+ business pages and even LinkedIn personal, business and group page. Not only can you schedule posts, but you can send up email notifications for different streams to monitor competitors, key words/terms or any engagement received.
If HubSpot isn't an option, here are a few other tools that we've tested and would recommend:
Buffer - Not only can you schedule on numerous platforms with Buffer, but they also suggest other content to talk about based on what you already talk about. Talk about a time saver.
Hootsuite - Beside being able to execute campaigns across multiple social networks from one web-based dashboard, you can also manage social media, track conversations, and measure campaign results. HootSuite also offers a custom built-in analytics system and the capability to schedule posts on all platforms.
Twitter Ads - If you're a business on Twitter and have access to their Ads platform, you can also schedule out tweets straight from the platform. If you go to your profile icon > Twitter Ads > Creatives > Tweets > Compose a Tweet -- from there you have the option to schedule. It'll track engagements and metrics on each tweet as well.
2. Be Human.
Many times business can be stoic, unfortunately. We're all extremely busy meeting deadlines and delivering a greater return on investment. I, for one, am constantly deep into a project and tend to be focused on delivering rather than connecting.
The holidays are the perfect time to step back from business and connect with prospects, customers and employees. At New Breed we're already planning for our Holiday party!
What we suggest:
Using social media - Share photos of activities around the office. It's fun for customers to see into your office because as a B2B company, much of what you do it behind closed doors. Use the holidays to open them!
Using email - Create an automated email to contacts wishing them Happy Holidays, especially customers. It proves dedication to business and shows consideration for personal relationships.
Using blogs - Writing blogs from holiday-inspired strategies to activities around the office are a great way to connect with readers on a personal level.
3. Repurpose Content: Original and Curated
During the holidays, you want to have as much time as possible to spend with friends and family. If you're anything like me, you crank away on projects far past 5 PM. But with the holidays, many times you have a special dinner or gathering on a Wednesday or Thursday and that cuts into your additional working time.
One way to make the most of your time and put you ahead of schedule is to repurpose content both original and curated. Original content is anything that your company creates (blog post, ebook, cheat sheet, infographic, video, etc.) while curated content is everything else not created and published by you.
How do we do it?
We like to repurpose infographics both created by our designers and other companies. We do so by featuring them in a blog post with a short blurb introducing the content in the graphic. They are simple and quick to create.
During the holidays add one these infographic blog posts to your blogging editorial calendar each week. If you dedicate one hour, you could potentially create up to 5 blog posts. Talk about efficiency. There are tons of other great ways to repurpose content to save your time.
4. Host an Event
Unplug without actually unplugging. The holidays are a perfect opportunity to host an event, big or small. Not only are they a great way to connect with local customers and professionals in your area, but they are also beneficial in generating leads. They also give your entire office a chance to take a break and come together.
Our idea:
At the New Breed office, we're in the midst of planning a holiday event of our own. We suggest pulling together an event that focuses less on education and more on conversation. This is a great opportunity for customers and professionals to unwind while still being engaged in the industry.
We're hosting our final HUG event for 2014 in this format. We'll be having an end of the year cocktail hour where we're have conversation reflecting on the past year and what we're excited about for the following year. This allows the event to be relaxed enough for people to truly enjoy themselves while helping ourselves in the long-run. We can gather ideas for future HUG events or even content offers and blog posts.
5. Send Swag
Keep your customers and references in mind during the holiday season and send them swag. What's swag? Any physical items with your branding like t-shirts, pens, notebooks, water bottles, sunglasses and more. Not only it is a great way to thank them for their business or assistance, it also keeps you in their mind. That way when budget allows (in the new year) and they're ready to start buying, you'll be in the forefront of their mind.
How we'd do it:
The swag we capitalize on are New Breed colored sunglasses, t-shirts, journals and books. There are so many different swag ideas; check out HubSpot for inspiration. Send items to points of contact for different customers as well as those who act as references for your work. Be sure to include a personalized, handwritten note thanking them. It doesn't hurt to take the extra time and effort to actually wrap the gifts before putting them in a packing box.
6. Automate Emails
Along with scheduling social media posts, schedule and automate emails for when you're out of the office (or for when you're just trying to get stuff done) can help you survive the holidays better. This is a classic time-saver that is easy to implement, if you have the right software of course.
You can schedule emails from blog notifications or weekly blog digests, updates/news or new offers, These are also keep lead-generating efforts alive during the holidays. Sales can also utilize email automation to keep in touch with leads while out of the office.
Where to start:
At New Breed we use HubSpot but there's also MailChimp, Constant Contact, Customer.io and more. All of these softwares allows your to create contact lists and create/schedule emails for particular lists of people.
We suggest reading through our Introduction to Email Marketing to learn the basics on email marketing and automation. Spend this holiday season trying to see all of your friends and family, not writing hundreds of emails.
There you have it, six ways to unplug and survive for the holidays. We hope these strategies help you make the most out of the holiday season and actually enjoy your time.

Topics: Inbound Marketing