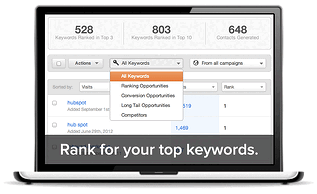 Over the years as inbound marketing has grown and evolved, managing your campaigns and measuring their success has always been separated into different platform management systems. With HubSpot's Content Management System (CMS) this can now all change. Differing from your traditional Content Management System (CMS), the HubSpot CMS' all-in-one nature can transform your inbound marketing and take it to the next level.
System Optimization Integration
First and foremost the HubSpot CMS' all-in-one nature allows you to manage all aspects of your digital and inbound marketing efforts in one easy to navigate operating system. Contact lists, managing leads, your website and blog, social media channels, analytics, and your landing and conversion pages are all easily accessible in one easy to manage platform. What gets better than that!
Content Personalization
In an attempt to help you foster more leads and grow your client base the HubSpot CMS also has the ability to personalize content for website visitors. The new Smart Features like Smart CTAs, Smart Content, and Smart Forms make this possible.
Smart Calls-to-Action: Based on the activity from a user's previous visit to your site, whether it be an Ebook download, viewing a white paper, etc., the HubSpot CMS has the ability to develop relevant CTAs for the next time the user visits your site.
Smart Content: The HubSpot CMS also allows you to tailor content for specific users. Based on a user's previous visit and their status in your lead funnel you now have ability to customize the content for specific visitors. The CMS is the first of its kind to develop content that recognizes the needs of a particular visitor and can create content accordingly.
Smart Forms: These forms have the ability to remember a visitor's information, as well as save them burden of ever having to type in their information again. This feature also gives you the ability to garner new information from these potential leads by asking different questions each time they visit your site.
Optimized Performance
And finally the overall performance of the HubSpot CMS will improve your inbound marketing. As a fast and safe operating system that will allow you to create a sales-ready website, monitor all aspects of your inbound and digital marketing campaigns, personalize content, and manage your social media platforms and company blog with ease, the HubSpot CMS' will undoubtedly take your inbound marketing to the next level.
A highly personalized website experience isn't the only aspect of a successful inbound marketing strategy. Download our Ultimate Guide to Inbound Marketing to learn everything you need to build your effective, optimized inbound approach:
Topics: Inbound Marketing, Demand Generation, Marketing Automation