Here's the situation; you have a company blog, and you update it frequently, but you're unable to garner the readership results you had hoped for. This is a common problem, especially for blogs of growing companies.
The issue may be coming from a lack-luster blog format or from posting content that is irrelevant to your audience; but there are ways in which you can make simple changes that will greatly boost readership and cultivate the followers who you want to be reading and sharing your posts.
In this post we're sharing 12 tips for a B2B blog redesign, that will help grow your blog and turn it into a resource that caters to your desired buyer personas.
13 Tips for a B2B Blog Redesign
1. Lead People to Your Site
Part of the problem causing low readership on your B2B blog may be coming low visibility or rankings in search engine results. Search engine optimization is essential. Some steps include connecting all social media sources with your blog, learning and utilizing the keywords and phrases that your targeted personas are using, and by tagging all of your content (and don't forget your pictures). And most importantly, encourage inbound linking by connecting with other blogs in your industry and linking to these other blogs from yours. Hopefully this will start to build a partnership and drive more inbound traffic.
2. Customize Persona Navigation
If a lead (or prospect) is viewing your blog, they are likely in search of something specific. Don't make them hunt. Once your desired persona has visited your site and established what they are looking for, you should then customize their experience and include calls to action that are relevant to their search. Using a platform like HubSpot will also let you leverage dynamic content to serve different calls-to-action depending on who is visiting your site at a given time.
3. Cohesive Design
Often times blogs are treated as a separate entity to a company's main site. While it may seem like a good idea to differentiate your blog and venture outside the corporate standards, many times this leads prospects to inadvertently disconnect the authors of the posts from their professional work. Keep it consistent. Use the same fonts, formatting, colors, etc., as your main B2B website. As a result, navigation between your site and your blog will become seamless, encouraging viewers to visit both sources for information.
4. Consider a PubHub
Most blogs are formatted as one stream, encompassing all content under one feed. However, many B2B companies, especially if they're large, cover all different types of content that may be targeted to all different personas. Creating a Blog PubHub allows you to seperate different types of content into specific silos. Check out HubSpot's PubHub for example. They've split their blogs into Marketing, Sales, Insiders and Opinion to match their different personas' needs. We've also used this setup with The University of Vermont's Brainwaves Blog. By offering hubs for Business, Health, Travel, Education and Vermont, Brainwaves subscribers are able to pick and choose from the varying categories to suit their interests - and won't have their inboxes packed with irrelevant content.
5. Fast Page Load
It's important to keep in mind that when you begin adding in visuals and social media plugins, your page may slow down. If it becomes too slow, viewers will be deterred and will quickly move on to greener pastures. This results in a high bounce rate. Check out tools such as Hubspot, which make site creation and maintenance easier for you and the experience better for the viewer.
6. Mobile Formatting
More and more readers are browsing on-the-go, to save a few precious moments in their otherwise very hectic schedule. It's very important that you offer a mobile format that is compatible with smart phones, tablets, e-readers, etc. Make sure that viewers do not have to scroll side-to-side or zoom in to read, because they will likely get tired of a hard-to-read format and will not want to spend time browsing through your other posts.
7. Quality over Quantity
We've all got that quota that we've been tasked with, and at times it can be easy to just get the information out there and move on. However, your prospects, who are seeking out your posts, are looking for meaningful and well thought-out content. And content that is relevant to them and aligns with their needs. While you may grab their attention with a rockstar post, if they move onto your next post and it's just so-so, they will not want to keep reading. Don't be afraid to go back into posts and edit them into perfection.
8. Formal Chat and Highly Visual Content
Posts need to be relatable to the reader, and easy-to-read and understand. Eliminate any unrecognizable jargon, and create a one-on-one experience. But on the same token, don't go overboard with familiarity. Your blog is not a frat party or girls chit-chat; this is a professional setting and your language should reflect that. Keep it engaging, even if there is a ton of content. And the best way to get a lot of information across is through a highly visual and organized format. Viewers should be able to gather a lot of information in a short amount of time.
9. Noticeable, but not Overbearing Calls-To-Action
Links to your CTA's should be posted on each page, and should be located in easy-to-find locations for viewers (think the bottom of the page or in side-bars). Posting in multiple locations or making links too large can become overbearing, and far too in-your-face salesy, putting your readers off rather than engaging them. Make your paths easy to find, but don't go overboard.
10. To Date or not to Date
Depending on the information shared through your blog, it may be smart to exclude time stamps on posts. Viewers may be deterred from reading a post if it is old, even if the information is still relevant. This especially comes into play when customizing content placement for different personas. With topics that are general, and not quickly-changing, you may consider leaving out the date post.
11. Featured Guests
You are not the only experts in your field. Invite guest bloggers to write on your page. They may generate new leads to your blog, and can help boost credibility and trust for your current viewers.
12. Credibility
When you see a post with 100 shares, you're more likely to trust the information in comparison to one that only has 3 shares. Be mindful of sharing your content and encouraging others to share as well so that your blog will become more credible. Include plugins that give credit to authors and that make sharing easier for the viewer.
13. Merchandising Your Best Content
It's great that you now have plenty of quality pieces on your blog, but you don't necessarily have to give away all of your trade-secrets for free. Save your best content for merchandising - offering whitepapers, guides, etc. - as retail to your readers. They will find more value in something that they purchase (or download), and will be more likely to use and share your information.
Conclusion
Blogs are a great tool for driving traffic to your website and positioning your company as a thought leader in your industry. As a result, you attract new leads and ultimately convert them into customers. Give your blog a boost with these easy tips, and grow your inbound marketing results.
Want some inspiration? Check out our inbound marketing and sales blog to find the latest news and information!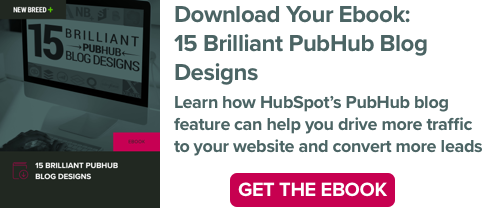 Topics: Demand Generation