A few weeks ago, LinkedIn rolled out a new layout for their company pages to a few select users. But yesterday, they made the new upgrades available to everyone! Not much has changed, but the few small tweaks they've made give the pages a cleaner, more customized look.
When the big Social Media players release design updates, we feel that in general it's best to hop right on. It's a great way to show your customers that you're on top of industry trends. So with this new release from LinkedIn, we jumped in and start exploring the new features. Here are our two favorites that will help you optimize your company's page:
Brand Cover Photo
Like Facebook, Twitter and Google+, LinkedIn is also jumping on the cover photo train. But why wouldn't they? Cover photos are a great way to build your brand online and give a consistent look across your social media channels. But cover photos also give you an opportunity to put a personalized feel to your profile. We suggest uploading photos of your office space or your employees as it helps people see more into who you are.
To update your LinkedIn cover photo, simply log into your account, finding your way to your company's page. From there, you will see a notice from LinkedIn on your homepage asking you to upload an image. Click on the link and you'll be able to upload your photo. Just a quick note to remember, they're looking for photos 646x220.
Product & Service Features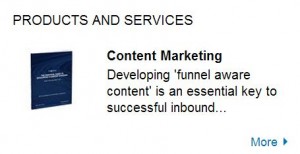 Another awesome feature of the new layout is the Product and Services call out. It's basically like a free ad on your page for you to promote one of your products or services. That's pretty great, right? What's even better is this call out lets you have images and content, making it much more likely that users will actually click on it.
And there you have it. With just a few minor updates, you can fully optimize your LinkedIn Company Page!